This week, we all got to relive the fantasy wedding of the century that none of us will ever be able to replicate: Kim Kardashian's. 10.5 million viewers tuned in for the chance to catch a glimpse of the "fairytale" nuptials. While I'm sure the reality star and her NBA hubby plunked down a considerable amount of money for their big day, I have to believe that part of it was subsidized by the network who aired it. So, that begs the question: if you had the opportunity to have your wedding bank-rolled but broadcast, would you do it?
If you watched part-one of this train wreck unfolding, you bore witness to A LOT of fighting. Mom and sisters bickered about the bachelorette party, and then Kim and Kris (Humphries in this case) went to war about his facial hair, whether or not Kim would change her name (she won't), and when the appropriate time is to move to Minnesota and initiate project baby. I have to wonder, if this were a traditional wedding–with people they actually knew and cared about, sans TV cameras, and ever-so-slightly more realistic with the budget–would all of this fighting actually have occurred?
Weddings are supposed to be loving times, but it's not uncommon for them to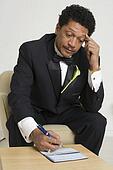 bring out the worst in everyone involved. Recently, we attended a wedding where the father of the bride and father of the groom battled incessantly for the mic in an attempt to one-up each other during speeches. It was appalling, and that's being nice. And I have to think this would only get worse when everyone is vying to be the star of the show, which is second nature to the Kardashians anyway.
If a TV network came to you with a wad of cash and a proposal to host your wedding, would you take them up on the offer knowing the pitfalls? I think we're in for a very interesting discussion with this one!