During the week that this installment of The Bachelor draws to a close, when Brad Womack either will or won't ask one of the remaining two women to be his bride, it seemed like a good idea to take a look at all things weddings. Why? Well, why not. Tens of hundreds (at least) of viewers will be tuning in to
see if Bachelor Brad pulls part deux of his famous stunt and leaves two more girls scratching their head and wondering what happened. Let's just imagine this doesn't happen though, and what each girl might wear should she be the lucky Mrs. Womack-to-be.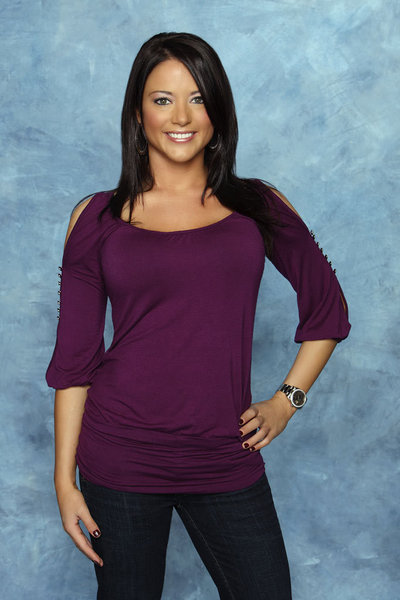 First up: Chantal. The dark-haired beauty was a siren the first night when she jumped out of the limo in a jade dress. So, what kind of dress might she choose for the big day? Chantel has worn some interesting dresses during the love competition, and she seems to be more conservative than her rival. I imagine her to choose a dress that's very traditional, and depending on where the wedding is, I could even see something with sleeves. And lace. Something tells me there could be lace. I don't doubt that she's already brainstorming her "something borrowed, something blue, something old, and something new" either because some of her fashion choices look like they were borrowed from yesteryear.
Now for Emily. The single mom of little Ricky from North Carolina already
has something that Chantal does not: that sweet southern accent and wholesome charm. Will that sense of downhome goodness come through in her choice of wedding dress? Judging from her more risqué dress choices on the show, something tells me not. Now, I'm not suggesting she'll opt for a short dress like the one worn in Guns and Roses "November Rain" video, but I do see something more sleek that shows off her figure. I don't think she'll cast aside her southern roots altogether assuming she's chosen. After all, Bachelor Brad is a southern man himself. Maybe a vintage wedding with a couple of modern twists would be the perfect backdrop for the handsome duo.
So, who will win Brad's hand in marriage (if it's anyone at all)? That remains to be seen, but one thing is for sure: if either gal is offered the chance to say "yes" to Brad, I'm thinking they will take it. The real question is: will they be together tomorrow morning on The Today Show, Good Morning America, and Live with Regis and Kelly? I guess tomorrow we will know.