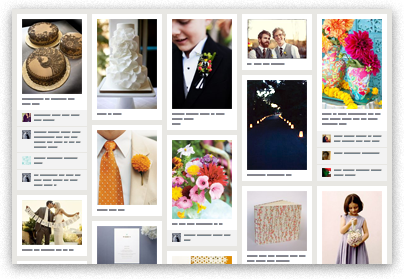 I see people pinning things to Pinterest all the time. A recipe here, an arts and crafts project there…but if you asked me to tell you what Pinterest is, I'd fail you big time. It got me thinking that I should probably read up on it, and share my findings with all of you as they relate to weddings.
First up, Pinterest is a virtual pinboard where you can organize and share the interesting things you find around the web with your friends, family, Facebook, or whoever will listen. You can also browse other peoples' pinboards to get ideas of things you like, especially people who share your same interests. It's like ripping the pages out of countless wedding magazines, only your house won't look like a landfill and mother nature (hopefully) won't rain on your big day to get you back.
Your first step in using Pinterest for your wedding is joining.  But of course, with all good things, there's now a waiting list. One way to sidestep the line is to have a current member invite you, so ask around on other social media sites and see if you can get the nod. The pictures you pin to your board are generally linked to a website, so it's like  bookmarking, but better!
So, how can Pinterest help you plan a wedding? Well, for starters, it can serve as a holding area for all of the things you're thinking about to help you get organized. Do you like four different dresses and can't decide? Pin them all to your board and let people give their opinions. How about the ties the groomsmen will wear? Add them to your board and have the gentlemen weight-in. Your friends and other people who follow you can leave comments and give you feedback, making your entire planning process more interactive.
Another tip is to follow wedding experts on Pinterest. And there are many! The Knot and Style Me Pretty are two wedding blogs that have active Pinterest boards, and you'd be well-served following them for ideas and inspiration. You can follow all of their boards, of just specific ones like "hairstyles" or "bouquets" depending on what you're looking for.
You'll also want to use the technology that Pinterest provides. For example, the Google Chrome "pin it" bookmarklet that allows you to grab an image from any website and pin it to your board with one click.  And as with most things, there's an app for that (Pinterest). Download the iPhone app and you can take your boards with you when you're shopping, meeting with your wedding planner, and more. Both make things very streamlined and cool!
How are you using Pinterest to help plan your wedding? If you have other ideas or tips, let's hear them!