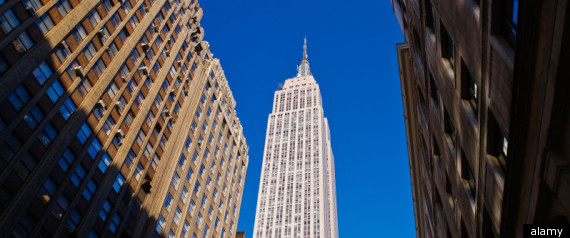 If given the chance, would you get married at the top of the Empire State Building? Yep–way, way, WAY up there, overlooking all of Manhattan. For four lucky couples, the dream was recently an overwhelming reality.
Celebrity wedding planner Colin Cowie recently closed a contest called "Wings of Love" where the couples won a dream wedding high in the Big Apple skyline. On Valentine's Day, the four couples ascended high into the sky and traded vows at an event that was made especially for them.
The contest was launched last November, and Facebook fans weighed-in to help Cowie plan the amazing wedding day. The public selected things like floral arrangements, the reception menu, color schemes, and even the DeBeers wedding bands that the couples won as part of the all-expenses paid event. Wedding dresses were provided by Kleinfeld's, which you've probably seen on TLC's "Say Yes to the Dress," while the men were outfitted by Men's Wearhouse. Estee Lauder worked with the brides on their hair and makeup.
Even better, one of the lucky couples won $100,000, a pretty nice dowry to start their new life together. The prize was handed out to the couple with the most votes on Facebook following the big day atop the Empire State Building. Want to meet the couples? These are their stories that helped them win this most amazing wedding!